Contrary to what some would have us believe the dollar is still in a secular bear market. Yes I will be the first one to admit that it is currently in a cyclical bull phase (I said so when the 50 crossed above the 200 and the 200 turned up) …the same applies to the stock market by the way.
But there is nothing on any chart that suggests this is anything other than a really big bear market rally. The pattern of lower lows and lower highs is still intact.
I've marked the 3 year cycle lows with red arrows and drawn in a line at 3 year cycle tops. So far each red arrow is lower than the last and each top has failed to move above the previous one.
In order for the dollar to end it's bear market it will have to break that pattern. We do have a window of opportunity in the next year. If the dollar can hold above the April `08 low at the next 3 year cycle bottom then we will have half the pattern broken. It would then have to rally above 90 in order to completely reverse the secular bear trend.
However the current 3 year cycle is again extremely left translated (topped in less than 18 months). Most of the time left translated cycles move below the prior cycle low. You can see the previous two cycles were also left translated and both dropped below the previous 3 year cycle low.
Cyclically speaking the dollar is now in a weak position and the odds are greater than 50% that we will see the dollar drop below 71 sometime next year.
Also contrary to what some would have us believe sentiment on the dollar is hardly bearish. The 6 month rally has done it's job and skewed sentiment back to the extreme bullish side of the boat. At the recent top sentiment was as bullish as it was during the brief deflationary period in `08/`09.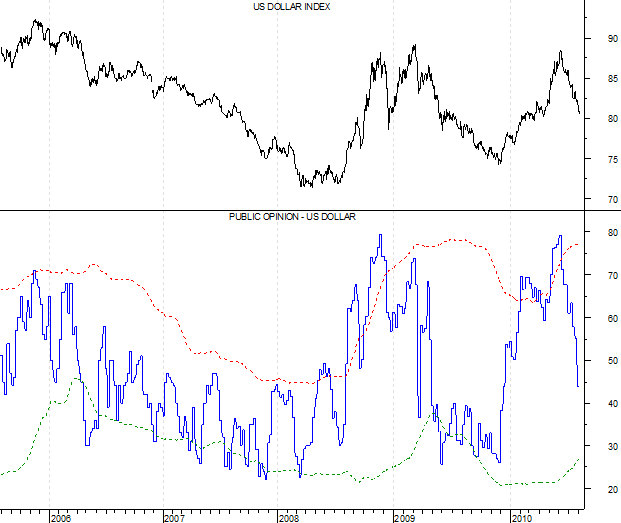 As you can see in the above chart even the virtual collapse over the last two months hasn't pushed sentiment anywhere close to the levels that are needed to put in a major bottom. I suspect that won't occur until we drop into the 3 year cycle low and generate some real fear that the dollar is toast.
As a reminder we saw exactly that kind of sentiment on the Euro recently. At the time virtually everyone had become convinced the EU was going to unravel and the Euro was going to fade into history. We need to see that kind of sentiment in the dollar before we can put in the 3 year cycle low. As you can see we aren't even close yet.
So for the time being it's still a secular bear market.