It's been my position for a while that Bernanke's monetary policy would eventually create a currency crisis in the worlds reserve currency.
I warned that crisis would begin as soon as it became apparent the dollar was caught in the grip of the 3 year cycle decline.
I had three conditions that had to be met before I'm was willing to call the beginning of the end. The first condition was for the dollar to move below 82. That was the warning shot that problems were developing.
The second and third condition were a move below long term support (80) and a failed intermediate cycle.
The drop below 80 this morning has now completed the final two conditions.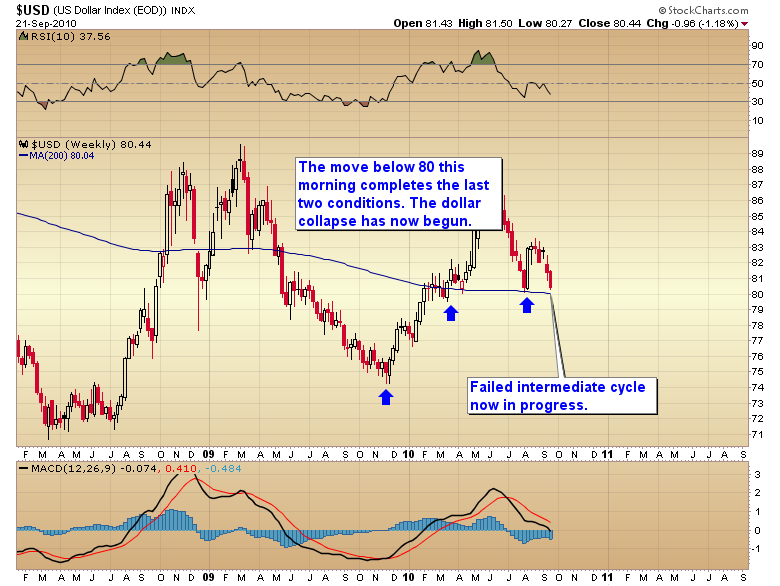 I've marked the last three intermediate cycles with the blue arrows. The move below the last intermediate cycle low this morning initiates a failed intermediate cycle. This is also an extremely left translated cycle. Left translated cycles tend to produce the worst losses as they have a long time to move down. The ongoing cycle shouldn't bottom until it puts in a larger degree yearly cycle low in November or December. I expect that low to test the `08 bottom at 71.
Finally we should see a full on mini crisis by the time the dollar drops into the major 3 year cycle low next spring or early summer.
I've been pointing out for months that deflation just isn't a possibility in a purely fiat monetary system. A determined government can create inflation any time it wants as long as they are willing to sacrifice the currency. I think it's safe to say the United States has no compunction against destroying the dollar.
We are now heading into an inflationary storm that will expose deflation theory as the pure nonsense that it is.