For my call of a new bear market to remain valid one very important assumption has to be true. That assumption is that the dollar put in its three-year cycle low in May. If that assumption is wrong and the dollars three-year cycle low still lies ahead then most asset classes should still have one more leg up to at least marginal new highs.
My assumption that May marked a major cycle bottom was based on:
1. Sentiment had reached multiyear extremes.
2. The May low occurred right in the middle of the normal timing for that major cycle bottom.
3. And QE2 was scheduled to end shortly thereafter.
When QE1 ended last year the deflationary pressures slammed back down on the stock market and economy. There didn't seem to be any reason to expect something different this time (unless quantitative easing really isn't ending).
The next couple of weeks are going to be important. The dollar should form a short term daily cycle low sometime in the next few days. If the bounce out of that low is weak, rolls over quickly, and breaches that pivot then the odds are going to be high that May did not mark the final three-year low. If the dollar still has one more leg down then the deflationary scenario is going to be put on hold while that runs it's course. As a matter of fact it would be more likely that we would see a pronounced inflationary period during this process.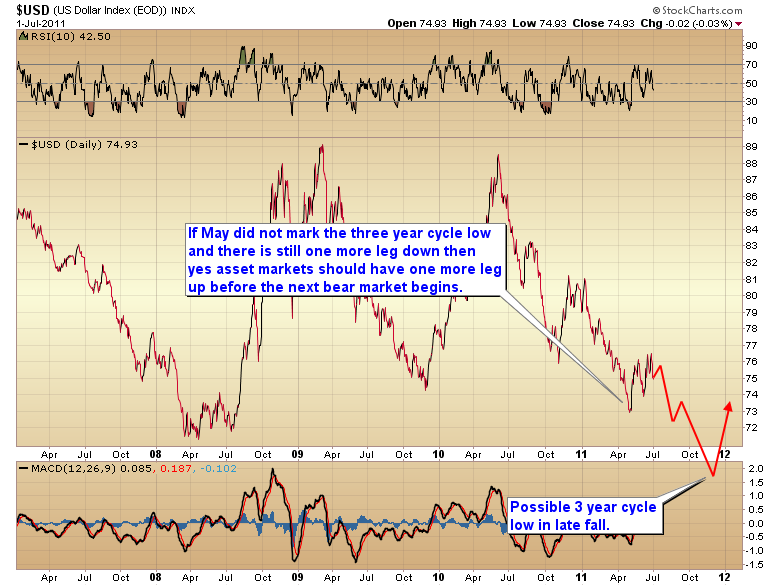 The start of the next bear market will depend on whether May marked the final bottom in the dollar or whether that bottom will come later this year. Either way once that bottom is in it will mark the beginning of the next deflationary period and the next cyclical stock market bear.