It's time to do a follow-up to my last Golden Bottom article. We are coming down to the wire and the action on Monday after the Swiss referendum should tell us whether gold has already formed a final bear market low, or whether we have one more drop in this intermediate cycle to the $1050 level before the final bottom.
If the vote is a yes then I suspect gold will reverse all of Friday's losses and immediately head back up confirming that we got the final bear market bottom in early November.
If however, and I think probably the more likely scenario since the consensus is the vote is going to be a no, gold continues down on Monday then the odds are we have one last lower low in the next 5-10 days that will form a final bear market bottom somewhere around the $1000- $1050 level. Gold is already moving into the latter part of its daily cycle timing band. Monday will be day 16. The average timing band for a bottom is 18-28 days. So if the bear market didn't already bottom in early November, it's going to bottom in the next 5-10 days.
Traders and metal investors need to prepare mentally, because unless the Swiss vote turns gold back up on Monday, then we are going to see a final intermediate, yearly, and major multiyear cycle bottom over the next 1 to 2 weeks. And as I have pointed out in the past the final move into an intermediate cycle low is always quite scary. I call it the bloodbath phase. When the move encompasses an even larger degree yearly, and in this case multiyear cycle the final selling climax is always a truly mindbending event.
I'm pretty sure the OPEC decision not to cut production has ushered in the bloodbath phase for oil and the rest of the commodity complex as they move into a final three year cycle low.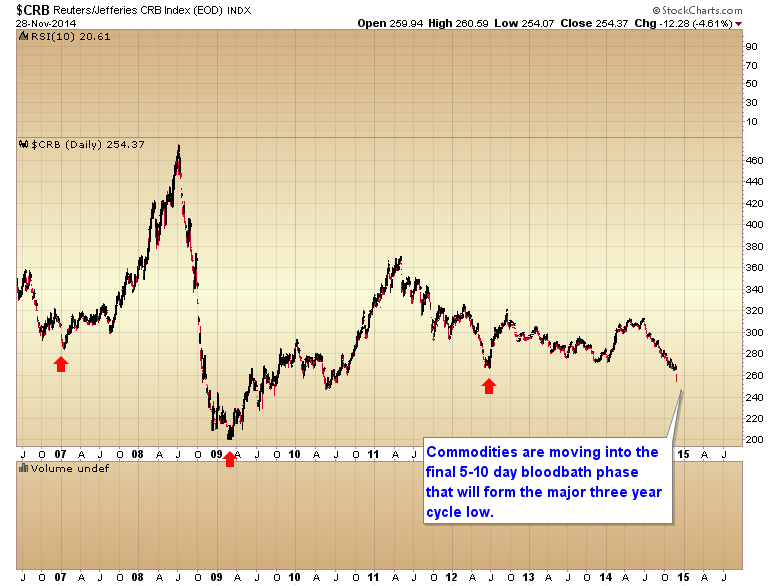 Since oil is the driver for the commodity complex the entire sector is likely to remain under pressure until oil finishes its bloodbath phase and exhausts every last bit of selling pressure.
I've come up with a couple of potential targets for a bottom. The first and most likely in my opinion, would be a tag of the 200 month moving average similar to what occurred in 2009.
The second, but more unlikely scenario, would be a test of the secular bull market trendline. Since we should only have 5-10 days in this bloodbath phase there probably isn't enough time for the second scenario to play out.
Whichever way this plays out the three year cycle low is just waiting on oil to find its final bottom.
As I am writing this article the news has come out that the Swiss vote was a no, so we can probably expect gold to follow oil down into this final bloodbath phase over the next 1-2 weeks. I'm guessing that means we're going to be treated to one of those mindbending events, and gold will drop $100-$150 in the next 5-10 days to reach the $1000- $1050 level which will complete a final bear market bottom.
Now here is the good news. A selling climax of this magnitude is going to generate a monster rally off of that final bear market bottom. As I have pointed out in the past, in order to confirm an intermediate bottom an asset has to rally far enough to break its intermediate downtrend line. So even though gold is likely to collapse over the next 1-2 weeks the initial surge off of that bear market bottom is going to be a truly amazing event as smart money floods into the sector generating one of the largest short squeezes in history.
We've already gotten a little taste of what is coming over the last three weeks. In what will likely turn out to be a countertrend move, the junior miner's rallied over 30% on massive volume. Once we get the final bear market low I expect mining stocks will rally 75% to 100% in the first 2-3 months of the new bull market.
Traders should get prepared for what is likely to be a very rough 1-2 weeks. Buy some hedges if you already have long positions, and if not, prepare to jump on what will likely be the buying opportunity of the second half of this decade sometime in the next couple of weeks.
Watch the action on Monday into the close. If gold holds the reversal and ends the day positive then there may just be too much buying pressure as big money smells a final bear market bottom and we don't get another leg down. That would mean that the final low came in early Nov. Wait for the close as it's going to be volatile today.