There are so many holes in this nonsense I had to comment.
If gold only rallies when people lose confidence in government then explain to me how gold rallied from $250 to $1000 during a period of time where confidence in government was as high or higher than it's ever been?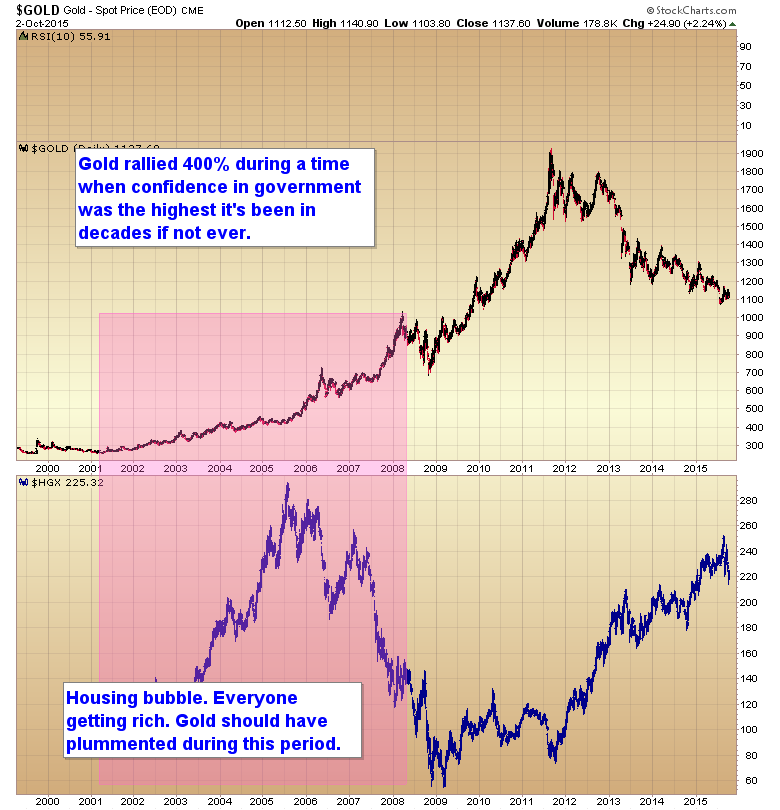 And according to the author cars have rallied 300% and the Dow 16,000% and that proves that they are both much better investments than gold in an inflationary environment. Maybe I'm not doing the math right, but the Dow rose from around 1000 to 18,000 during the period from 1970-the present. That's a respectable 18 fold gain. But gold rose from $35 to $1900. Unless my caculator is broken that's a 54 fold gain. Gold is so far ahead of stocks in preserving purchasing power that they aren't even in the same league. Even if one were to calculate the number from Friday's price after a 4 year bear market gold has still delivered a 32 fold gain to the Dow's 16.
There is one reason, and one reason only why the price of gold goes up over time. Because governments and central banks print too much money. Some times that money will go into undervalued, and or new industries like it did in the 80's and 90's with the invention of the personal computer and internet, and some times it flows into commodities when there is no new emerging industry to soak it up. But there is no question that over the long haul, through both bull and bear markets gold massively outperforms almost all other assets in protecting ones wealth from the depredations of government counterfeiting.