Weekend Charts: $SPX, $NYAD, $NYA, $INDU, $MID, $RUT, $FTSE, $CAC, $DAX, and $NIKK.
I like the odds that Friday marked the bottom of the daily cycle and half intermediate cycle decline. The next daily cycle should be right translated as well and rally at least into the second week of June before the market starts to get nervous about the Brexit and we get another corrective move.
At this point there is virtually no doubt that the 7 year cycle correction is finished and the next phase of this QE driven bull market is beginning.
In an advancing intermediate cycle price doesn't stay oversold very long before reversing. The daily cycle has reached oversold conditions.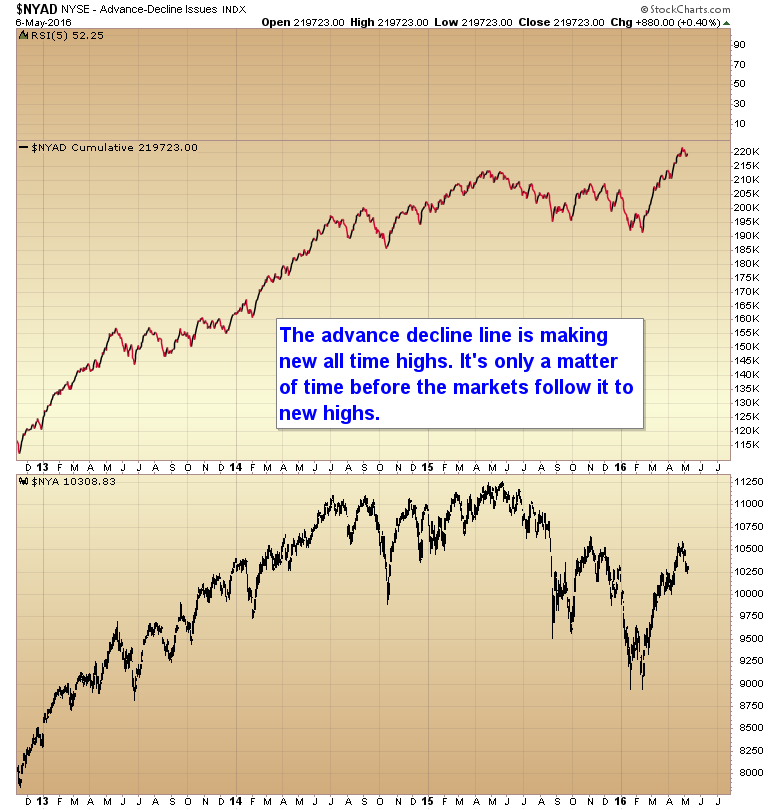 The advance-decline line is making new all time highs. It's only a matter of time before the markets follow it to new highs.
All stock market indexes have broken their 7 year cycle down trend lines ($NYA, $INDU, $MID, $RUT, and $SPX).
Once the $FTSE recovers the 200 week moving average then the rest of the globe will be in sync with the US Markets ($CAC, $DAX, and $NIKK).
Like our new Facebook page to stay current on all things Smart Money Tracker