Let's face it almost every trader or investor dreads a draw down. Traders do everything they can to avoid them, even if it means they drastically reduce their ultimate gains.
It looks like the stop at $1361 will be hit and gold will begin the trip down into an intermediate low. I get the feeling that many traders assumed the stop was there only as a token gesture, but really had no chance of getting hit.
I'm also afraid that despite my many many warnings that too many traders took on way to much leverage. They never really planned on gold hitting the stop. When it does they are going to take a much larger loss than they planned on. I suspect they didn't plan on a loss at all. They planned on huge profits.
If you are one of these people let this be a lesson. Always plan for the worst and hope for the best.
Now is this the end of the world. Was it a huge mistake …or is it a golden opportunity?
Without a doubt it is a golden opportunity! As soon as the stop is hit traders can return to a minimum core position and build up dry powder because there is going to be an amazing opportunity in the not too distant future. An opportunity that has the potential for 100%+ gains this year, just like last.
We've yet to see anything that looks like a final C-wave top so I think we will see one final leg up after this intermediate correction has run it's course. By triggering our stops we now have the opportunity to re-enter at lower prices for a much larger ride up.
Look at the chart below and ask yourself does it really matter if one gets stopped out for a miner (sic) loss if it enables one to re-enter at the cycle bottom and ride a much larger final move higher?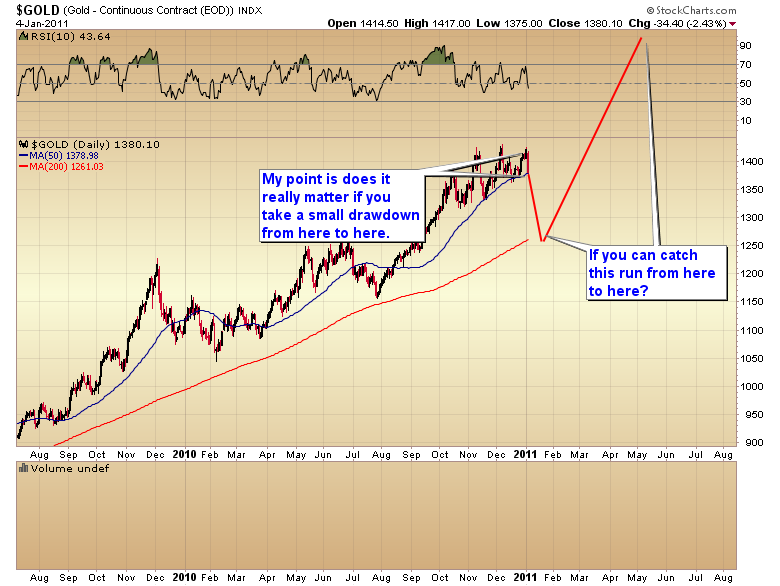 Personally I'll be ecstatic if I get stopped out of positions. It will virtually guarantee another hugely profitable year this year despite the fact that it may start out a little rough.