The recent rally in gold, oil, and commodities in general has been extremely powerful. Despite protestations to the contrary by our clueless Fed president, it's very clear what is driving this massive commodity inflation when you look at this next chart. That's right we are now seeing the unintended consequences of printing money.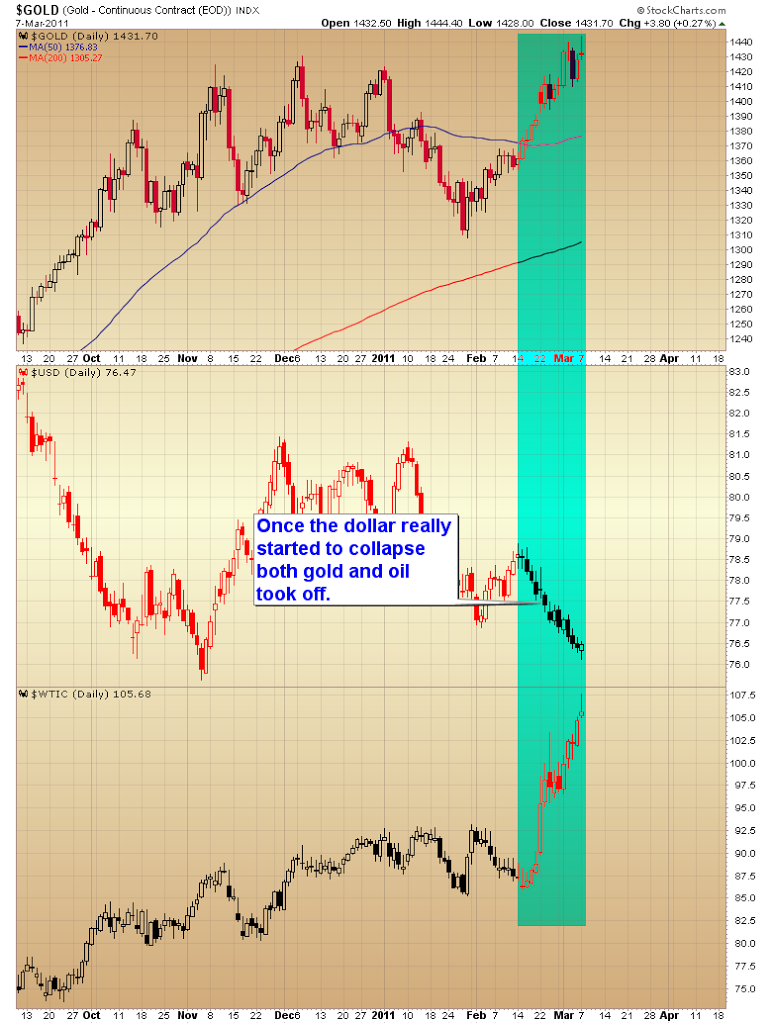 Just as soon as the dollar started to collapse commodities began to surge. And if you think it's bad now wait till the dollar breaks below the November pivot. When that happens, and it will happen, it will signal that we now have a yearly cycle that has topped in only 4 weeks and has already moved below the last yearly cycle bottom. That my friends is an incredibly bearish sign.
At that point the market will no longer be able to delude itself that everything is OK. At that point inflationary pressures will surge out of control. At that point Bernanke will understand the magnitude of his catastrophic blunder when he ran QE2. And at that point it will be too late to stop.
Actually this path was already determined when Ben opted for QE1 to abort the debt cleansing process that was underway in 08 and 09. Yes he bought us a little time but the ultimate cost is going to be much greater than anyone could have foreseen. It would have been much better if the depression was allowed to run it's course. We would be most of the way through the pain by now and ready to come out the other side into a golden age. Instead we have another decade or more of misery ahead of us. All because our leaders don't have the foresight to see the consequences of their actions.
Now on a more immediate note the dollar is due for a dead cat bounce anytime now. When it does it should force a brief correction in gold, oil and commodities in general.



This will be your last buying opportunity before the final parabolic move begins in earnest. Once the dollar breaks below that November low all hell should break lose in the currency markets forcing all commodities, especially gold and silver into what will likely be one of the most powerful rallies in history.