Asset markets should now be in the final 3-5 days of this intermediate degree profit-taking event. We are moving into the belly of the beast, so to speak. This is that period of time during an intermediate decline where things start to look really bad. The media always confirms the decline with multiple stories of gloom and doom. Don't be fooled though, this is just a normal profit-taking event and it happens like clockwork about every 20-22 weeks (although sometimes QE can stretch the cycle to over 30 weeks).
The stock market is now 19 weeks into its intermediate cycle, which generally lasts 18-22 weeks. So we are well into the timing band for that major bottom.

The daily cycle is on day 35 which generally lasts about 35-40 days. So we are now in the timing band for that smaller cycle bottom also.

Gold is 22 weeks into its intermediate cycle, which generally runs 18-25 weeks, and 19 days into its daily cycle which averages 18-28 days.

Considering that the stock market is right in the timing band for its cycle bottom we could see a bottom any day now. However considering that this current daily cycle was left translated (topped in less than 20 days), the market should move below the prior daily cycle low before bottoming. Left translated cycles generally form a pattern of lower lows and lower highs.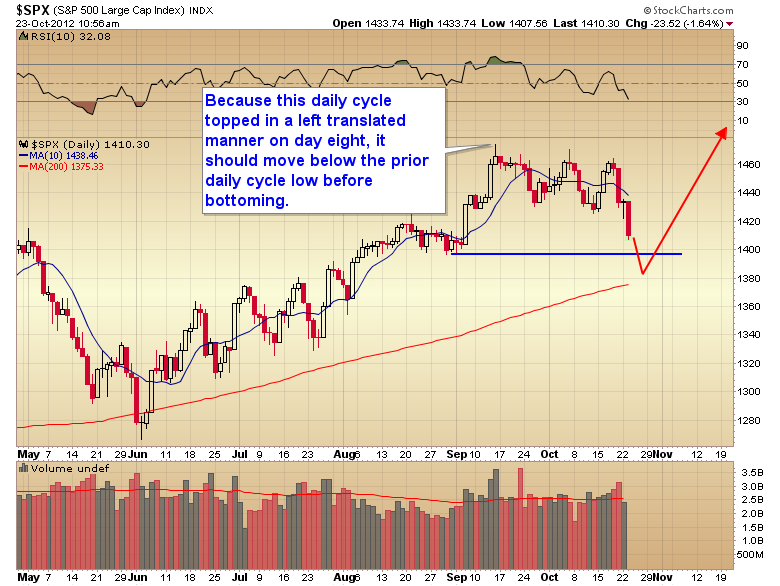 My best guess is that risk assets will find a bottom at about the same time the dollar tests the 200 day moving average.
While I wouldn't rule out a marginal move above the 200, I think it's safe to assume that Bernanke has broken the dollar rally with QE3, and that any move above the 200 will be brief and roll over quickly.
Once the dollar resumes the secular bear trend all asset markets should form intermediate bottoms and begin the next leg up in the cyclical bull market for stocks, and secular bull market in gold.
It's important that traders not get sucked into the rhetoric during this final bottoming process. Investors are about to get another one of those great buying opportunities, especially in mining stocks

For a more in-depth explanation of what is transpiring go to the SMT premium newsletter. $10 one week trial.