While I've done my best to try and dissuade people from selling short, there are always going to be plenty of traders that insist on doing things the hard way. If you are determined to make it as hard as possible to turn a profit then at least have the patience to wait until you have the odds as far in your favor as possible. I would argue that the COT reports are your single best tool to time short entries.
During gold's baby bull rally I saw trader after trade try to be a hero and pick a top. Invariably every one of them ended up like a bug on a windshield. Why? Because they tried to sell short too soon. Over and over I cautioned that almost no intermediate cycle in gold ever tops until the total commercial short position rises above 300,000 contracts. If traders had paid attention to that one simple rule they could have saved themselves a lot of pain.
Just as I warned, gold kept ramping higher and it wasn't until three weeks ago that the COT reports for commercial short position reached the 300,000 contract level.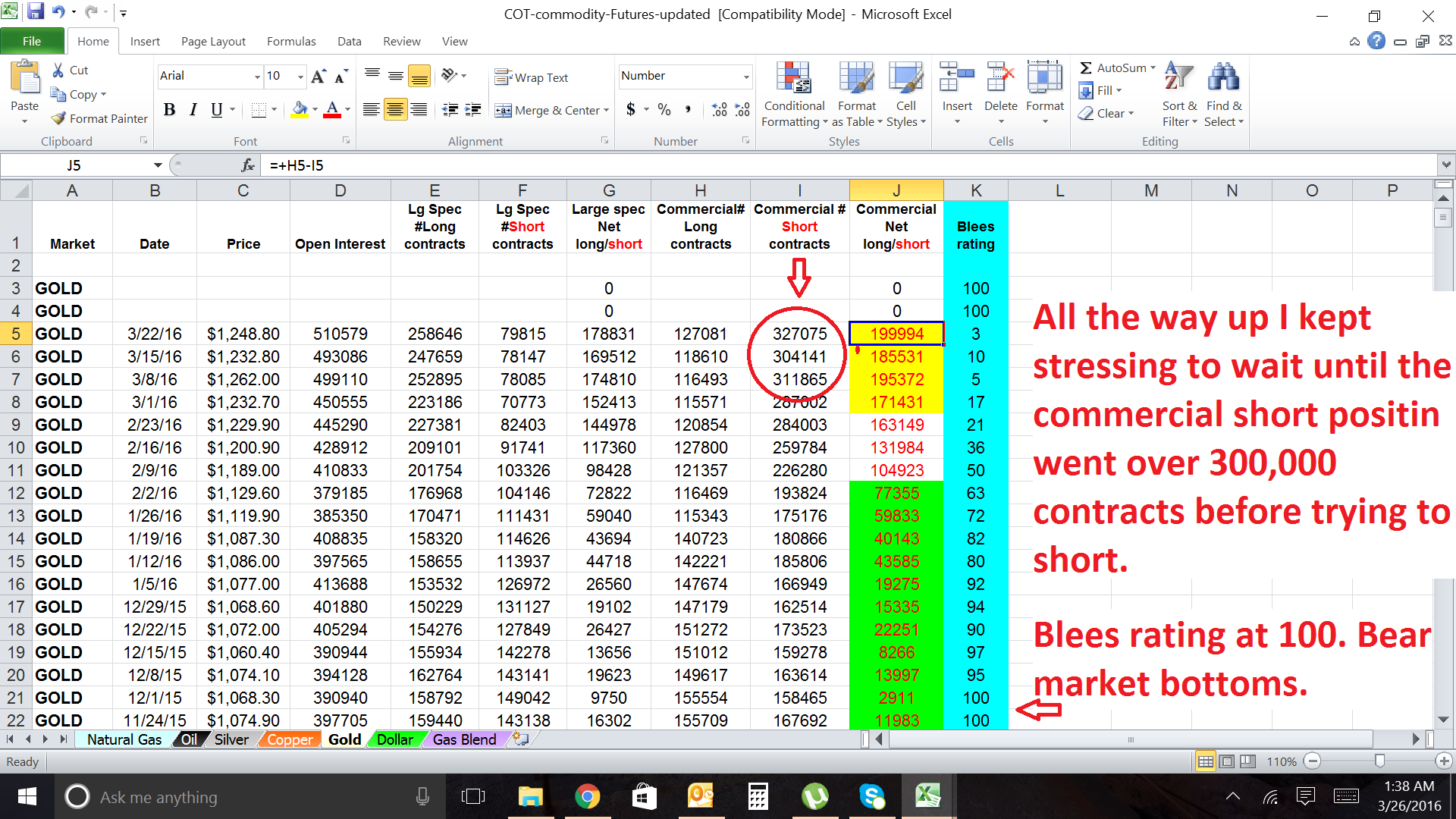 I still maintain that selling short is a very difficult way to make money. But if you just can't resist flying into the fire at least wait till the COT reports reach levels in your favor. Now that the commercial short position has moved to 327,000 contracts it is safer to short gold. Personally I just use the COT reports to tell me when to take profits, I have no interest in trying to short. Even if gold is ready to drop into an intermediate cycle low I suspect the nature of the market has now changed and it's going to be a very erratic move that will likely chew up bulls and bears alike. By that I mean it could take 5-7 weeks to complete the ICL and gold may only drop 50-70 points during that period.
Why fight with a market for such small percentage gains?
Now I'm seeing the same impatience when it comes to shorting the stock market. And you can use the same tool here to give you an edge and prevent losses by being too early to the party.
At intermediate tops the combined COT index futures almost always reach single digits, or even slightly negative levels. Until they do the odds are that early shorts will lose money just like the early shorts in gold who failed to heed my warning. Pay careful attention to what these COT reports are telling us.
As you can see in this week's stock market COT report below, the commercials still have a long way to go before the odds swing in favor of shorting.
Folks it's not usually a good idea to stand in front of this train. Yes you may be able to day trade the short side and make some money, but if you are trying to pick an intermediate top it's almost certainly too soon.
I can't stop the moths from flying to the flame, but if you will heed this one simple warning the odds of you getting burnt will decrease significantly.
Like our new Facebook page to stay current on all things Smart Money Tracker