Retail traders love to sell short. I'm not sure what the appeal is but I'm going to urge you not to do it. I've been doing this for a long time and I can tell you that there are only 3 people who ever make any long term gains selling short. One is the professional short sellers. They have big research departments and they make money by finding sick companies that are on their way to bankruptcy.
The second group of traders that make money selling short are the big banks and huge hedge funds that can manipulate price. They know when price is going to start down, and they know when to take profits because they are the ones that initiate the sell off, and they know where they are going to cover.
The third type of trader that makes money on the short side are just lucky. How consistent do you think those guys are?
Folks here are the simple facts. Markets go down differently than they go up, and the mathematics on the short side are against you. You simply can't make that much money selling short because the maximum winning trade is only 100%.
This holds for bear markets as well as bull markets. As a matter of fact I would suggest it may even be harder to make money selling short in a bear market than it is in a bull market because the counter trend moves are more violent, and more likely to knock you out of your short for a loss.
Like I said, markets go down differently than they go up. A strong trending move up is not that unusual so trend followers on the long side often make money. However, a strong trending move down like we had in oil last year is an anomaly that is pretty rare. Let me show you what most bear markets look like.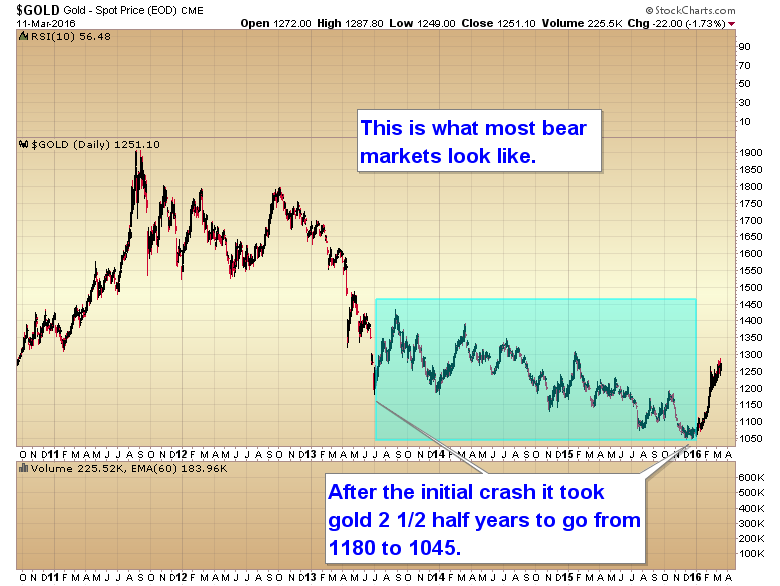 After the initial crash that took gold down to $1180 it then took 2 1/2 years for gold to lose another $140. I watched as bears lost money on trade after trade after trade trying to short this market. The simple fact is the only way to make money in the typical run of the mill bear market is you have to correctly anticipate where each bear market rally will top, and where each leg down will end. I can tell you that in all of my years trading markets I have never yet seen anyone call bear market tops with any consistency.
Now notice that four of the legs down didn't make lower lows. Bears holding shorts during those intermediate corrections got caught in short squeezes and lost money because the markets didn't do what they were anticipating. They didn't actually deliver a leg down.
I would challenge any of you to actually look at your trading history over your career (if you have it), make an honest assessment, and most of you will find that over the long haul you haven't made any long term gains trying to sell short. And for 90% of you it's probably actually cost you money in the long run to sell short.
The simple fact is that for most retail traders selling short isn't about making money, it's about bragging rights. They have an irrational desire to try to call tops. In trying to fulfill that desire they ignore the fact that they are losing money. I've watched over the last two months as trader after trader has tried to call the top in gold and short the market. Whether it was a reversal candlestick, or an oscillator that was overbought, or they counted a certain number of waves, or the market just looked toppy to them (I never understood what that meant by the way), every one of them failed, and the end result was they gave back some, if not all the gains they had made on the run up.
I can't stress this strongly enough, and again I'm trying to prevent you from making the same stupid mistakes I made as a novice trader, if you think a market or sector is topping it doesn't mean you need to sell short. You may be wrong and the market just continues rising, and you end up giving back the gains you made on the long side. If you think a market has rallied far enough, and you don't trust it to be long anymore then go to cash, or move your money to some other sector that is going up instead of making the amateur mistake of trying to sell short.
Like our new Facebook page to stay current on all things Smart Money Tracker