My what a difference a couple of months makes. Several months ago everyone was convinced that stocks were starting a protracted bear market. Many expected it to be even worse than the last one in 2008/09.
A couple of months ago everyone was calling for 110-120 on the dollar index.
A couple of months ago everyone knew that oil was going to the low 20's or even into the teens.
And several months ago everyone was convinced that gold would trade below $1000 some even calling for targets below $800.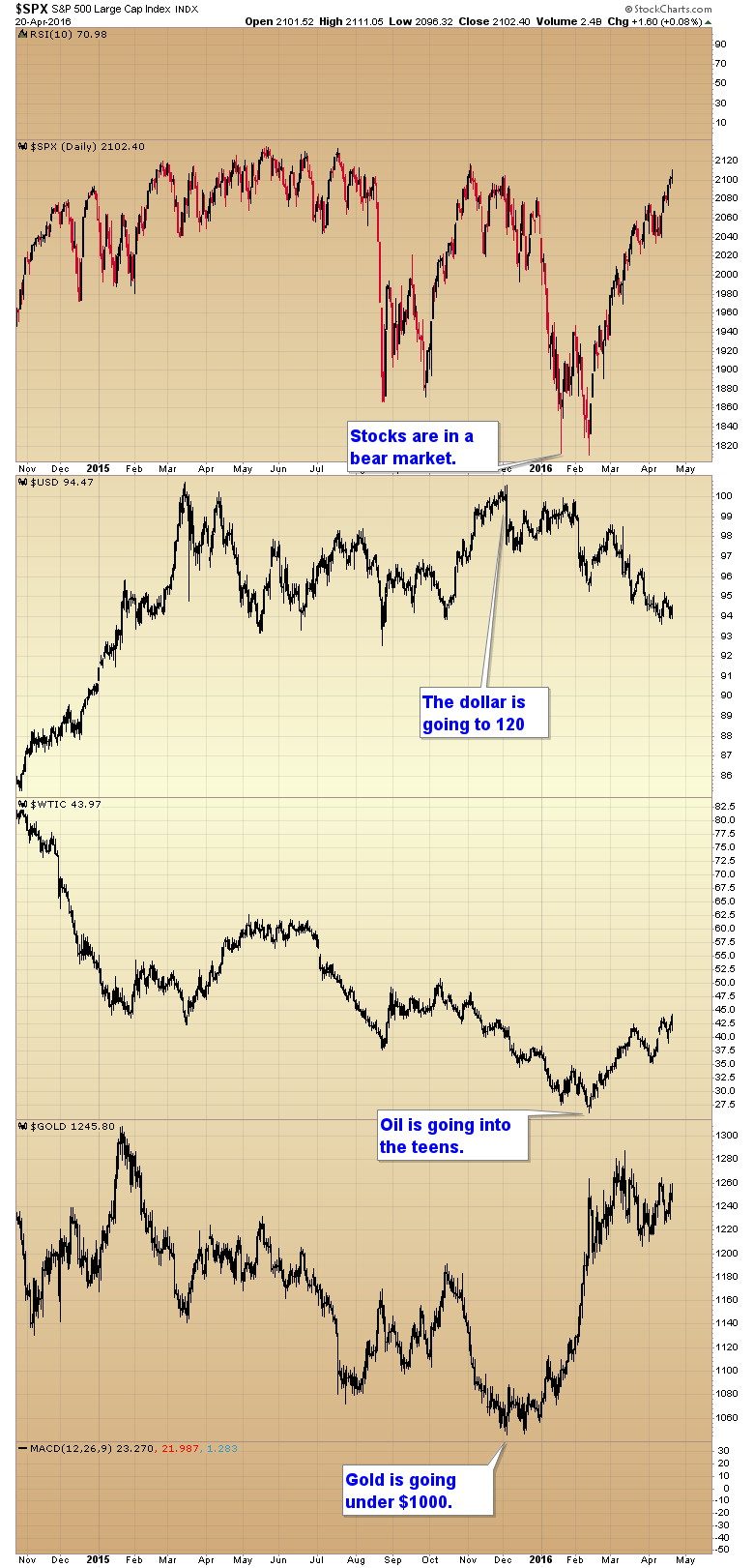 I disagreed with every one of these assumptions. Why? Because all markets were due for multi-year cycle lows. (Except the dollar which was due for a multi-year cycle top).
As we now know all of these assumptions were 180 degrees wrong.
Folks when everyone is thinking the same thing, then no one is thinking.
Now we have many people swinging for the fences in the opposite direction. That's what a persistent trend will do to trader bias.
Here's my contrary predictions for the next several months.
Almost everyone is still assuming that stocks are in a bear market and that we are just forming a double top. Stocks are not forming a double top. This is a new 7 year cycle. There is simply no way a new 7 year cycle can top in less than 2 1/2 years. Stocks are going to go so far above the all time highs in the next several years that it will make your head spin.
The current theory is the dollar is now ready to crash. Again the crowd is on the wrong side of the boat. The dollar is not going to crash. In fact it's due for a multi-week rally. But once the rally has run its course the dollar will continue down and the 7 year bull market is over.
Everyone continues to get sidetracked by the supposed fundamentals in oil. This is not a bear market rally in oil. The fundamentals have already changed even though no one can see it yet. We are never going to see $26 oil again. 
And the strength of the rally in gold has convinced many that this time is different. Too many analysts are now expecting only a sideways correction in gold or a very mild intermediate degree correction. This is absurd. The dollar hasn't even rallied yet. How in the world can one predict that gold will just trade sideways before the dollar even delivers its rally? Gold is going to correct and the move down into the intermediate cycle low will be much more severe than anyone is currently expecting. Miners will retrace at least 50% of the baby bull rally and in the process completely cleanse the bullish sentiment that has built up in the sector. 
Once the correction has knocked everyone off the bull and convinced most everyone that the bear has returned, then and only then will gold be ready for the next leg up in its new bull market. 
Like our new Facebook page to stay current on all things Smart Money Tracker